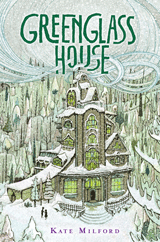 Title: Greenglass House
Author: Kate Milford
Genre: Mystery/Adventure
Similar Books: The Westing Game by Ellen Raskin
The Mysterious Benedict Society by Trenton Lee Stewart
Rating:
Surprising, clever

Summary: When mysterious guests begin to arrive at Greenglass House, Milo is initially annoyed to have his normally quite Christmas with his parents interrupted. He can't help but notice, though, how strangely these guests are behaving, all of them keeping secrets and asking odd questions about the house itself. With the help of Meddy, the cook's daughter, Milo sets out to discover what is really going on at Greenglass House.
My opinion: The beginning of this book reminds me of Treasure Island, I think because the house is kind of like the Admiral Benbow Inn. In execution it is probably closer to The Westing Game, what with the wide variety of characters, their secrets and motivations. The use of LARPing (Live Action Role Playing) was unique. You don't really get role-playing games in much fiction. I loved the way the plot unfolded in this book, especially the way Milford uses the storytelling scenes to reveal character motivation. There are some great secrets that come to light throughout the story. And most of all, I liked how solving the mysteries taught Milo some things about himself. This was a book that I enjoyed far more than I had anticipated and I look forward to recommending it to patrons.
More Information: Greenglass House releases August 26th.
Advanced Reader Copy provided by NetGalley